Barramundi Bush Curry with Bush Tomato rice and Sandalwood Nuts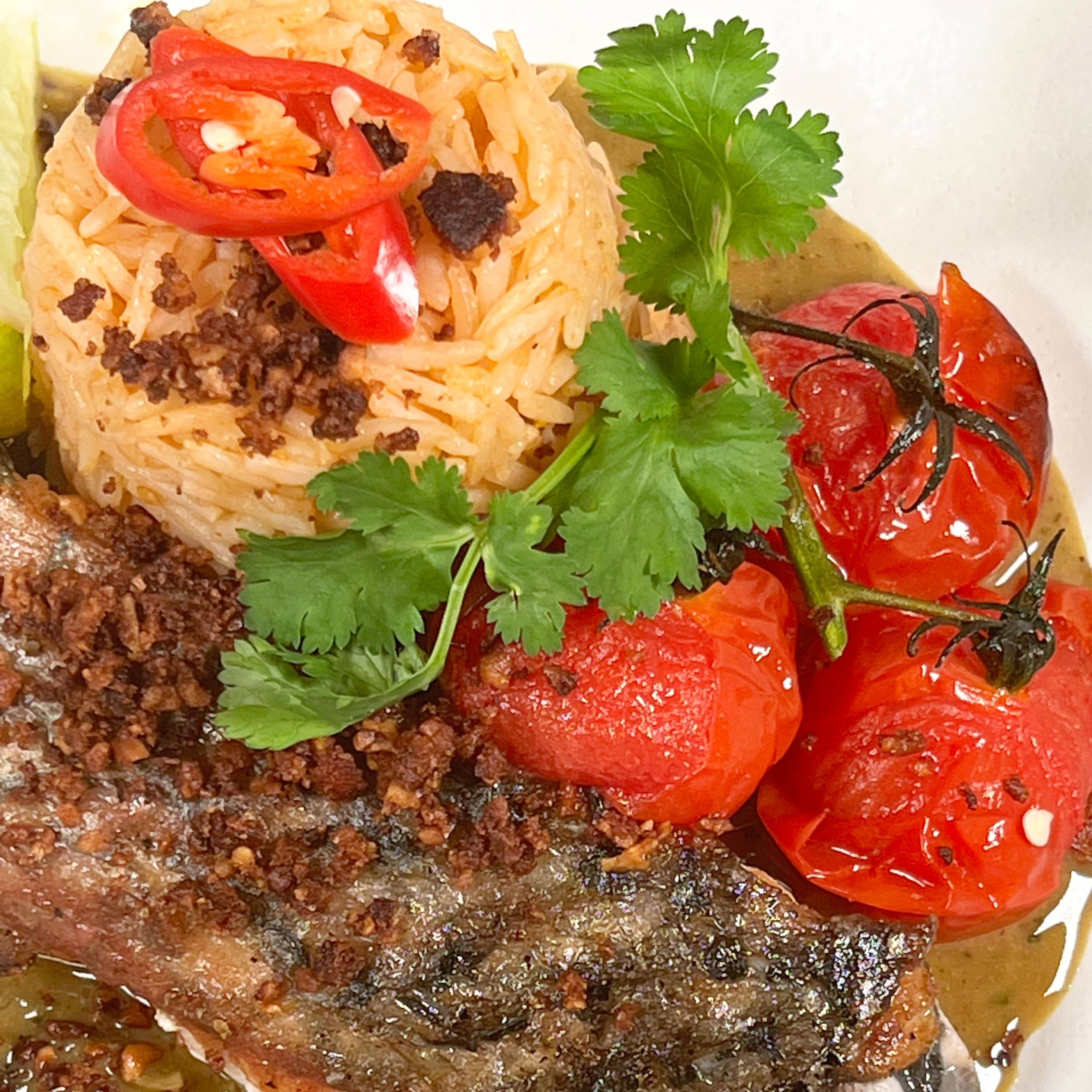 It is in no way a traditional curry recipe, but is one that celebrates our incredible Australian native ingredients. It is a mild curry with the native peppers and myrtle leaves providing a kick of spice and heat. The Bush Tomato rice and roast tomatoes add a lovely acidity and freshness to the dish. The curry is balanced with fish sauce, palm sugar and lime juice for the perfect combination of salty, zesty and sweet. The fried Sandalwood Nuts add a lovely nuttiness to the dish and the Saltbush fried Barramundi has the perfect crispy skin.

Recipe by Scott Bagnell



Method
1. Preheat oven to 180 degrees Celsius. Rub cherry tomatoes with peanut oil and sprinkle with salt flakes. Place in oven tray and roast for 10-15mins until blistered. Set aside.
2. For the bush tomato rice, in a medium saucepan add all the ingredients and a pinch of salt. Bring to a boil, stir well and cover with a lid. Gently boil for 13mins without removing the lid, or until all the liquid is evaporated and it is starting to 'crackle'. Turn off the heat, do not remove the lid and allow to stand for 13mins.
3. For the curry powder, in a small bowl mix all ingredients together.
4. For the bush curry, ensure the fish fillets are scale free, pat dry with paper towel, rub with peanut oil and sprinkle with saltbush spice, salt flakes and crushed mountain pepperberry. Allow to rest while you make the rest of the curry.
5. In a high-side medium fry-pan or wok add 1 tsp peanut oil and crushed sandalwood nuts. Fry until golden brown and smelling lovely and nutty. Remove and set aside.
6. Add to the same fry-pan or wok, 1 tbsp peanut oil and onions and fry for 2-3 minutes until translucent. Add curry powder, ginger and garlic and fry for a further 2-3 minutes until fragrant. Add the coconut milk and 1/2 of the fried sandalwood nuts. Allow to reduce and thicken slightly for about 5-10 minutes. Finish the curry sauce with fish sauce, palm sugar and lime juice from 1/2 lime. You want the sauce to have a good balance of salty, sweet and zesty fresh from the lime juice. Adjust to taste.
7. In a separate fry pan, place a little peanut oil in the cold pan, place the 4 barramundi fillets skin side down in the pan. Place a fish weight on top and turn on heat to medium. Allow to cook for 6-8 minutes or until the skin is golden and crispy. Remove the fish weight, turn over and cook for 30 seconds on the other side, making sure not to overcook. Remove from the fry pan and rest skin side up.
8. To assemble, remove the lid from the rice and fluff with a fork. Divide evenly into 4 pudding moulds and upturn into 4 serving bowls to the side. Place 3-4 roasted cherry tomatoes to the side of the rice, evenly pour the curry sauce into the base of each bowl. Top with barramundi fillet, sprinkle with remaining fried sandalwood nuts and garnish with sliced red chilli, fresh coriander and a wedge of remaining lime.