Braised Lamb with Saltbush and Rockmelon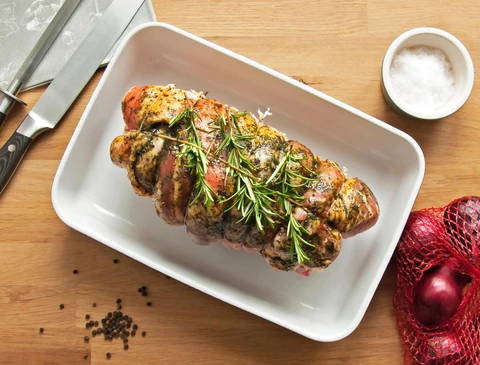 Saltbush is a tasty herb found in dry inland Australia with a wonderful salty, umami flavour.
The addition of Saltbush will add an earthy, mineral saltiness to your dish and is a great replacement for table salt. This is an extremely versatile herb and is commonly used to flavour meats and fish.
Whether it's tossed through a stir fry or used a marinade, the Saltbush will add amazing flavours to your meal.
Braised Lamb with Saltbush and Rockmelon



Ingredients:
1 Lamb Shoulder (about 1.1kg), bone in
1 garlic bulb, cut in half
2 brown onions, chopped
1 tsb (5g) ground cumin
1 tsb (5g) ground coriander
2 tsb 10g ground Saltbush
1 tsp 5g Chilli flakes
1 tbl small bunches saltbush
2–3L sheep stock (or another meat stock)
1/2 rockmelon
50g raisins
20g pine nuts, toasted
Modest bunch coriander (cilantro), leaves picked and chopped
Modest bunch mint, leaves picked and chopped
Zest of 1 lemon 
Method:
1. Place lamb in a large pot over high heat and brown the outside for 10 minutes.
2. Add the garlic (cutsides down), onion and spices and keep cooking for 5 minutes until the lamb is sealed and the onion is caramelized.
3. Add the saltbush and enough stock to cover.
4. Bring to the boil, reduce heat to a simmer. Cover with a lid and braise for 3–4 hours or until the meat falls off the bone.
5. Remove the bone from the lamb and dispose off.
6. Put the meat to the side and keep warm.
7. Increase the heat to high and keep on cooking the braising liquid for around 20 minutes until significantly reduced.
8. Remove around 125 ml (4 fl oz/½ cup) of the sauce and put in a safe spot. Return the lamb to the pot.
10. Meanwhile, remove the skin from the melon, getting rid of the seeds and cut it into 2 cm (¾ inch) pieces.
11. Place the melon in a griddle over high heat and caramelize for a couple of minutes, turning to cook on all sides. The pan must be truly hot to caramelize the melon, else it will stew in its juices. .
12. Add the raisins, pine nuts, coriander, mint and lemon zest. Blend until combined and add the saved sauce to help tie the rockmelon and toppings together.
Serve the sheep with the melon plate of mixed greens.