Bush Tomato Soup with Parmesan Crisps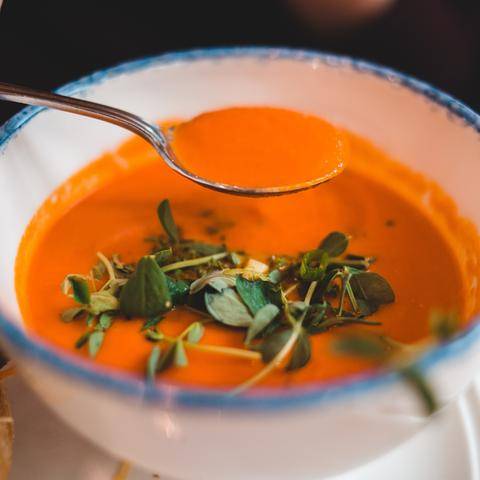 Our Bush Tomato is sourced from First Nation People in Central Australia as the plant thrives in dry, arid environments. The native Aussie herb is described as having with a pungent aftertaste. It can be used to enhance the flavour of any tomato dish so why not start with a Bush Tomato Soup.



Ingredients:
Soup
15ml olive oil 
1 onion, slashed 
1 clove garlic, squashed 
2 teaspoons (10g) ground Bush Tomato 
4 rashers smoked bacon, diced (avoid for vegans) 
10 ripe tomatoes, chopped
5 teaspoons sugar 
150g cup chicken or 250g vegetable stock for vegans 
1 teaspoon (5g) Salt and 
1 teaspoon (5g) newly ground Tasmanian Pepperberry 
20g Natural yogurt, to serve 
Chopped chives, to serve 
Parmesan crisps 
10ml Olive oil 
80g ground parmesan 
Pinch of ground Bush Tomato                           

Method:
1. Heat the oil in a saucepan and saute the onion and garlic until soft.
2. Add Bush Tomato, bacon, chopped tomato and sugar and stew for 30 minutes. Allow Tomatoes to break down.
3. To make the crisps, preheat the grill to high.
4. Line a prepared baking tray and splash with olive oil.
5. Separate the ground parmesan into eight piles on the tray.
6. Sprinkle a modest quantity of Bush Tomato over each heap, place under grill and cook until the parmesan melts and is slightly golden.
7. Take out from the grill and leave the crisps to cool.
8.Add the stock to the soup and bring to the boil. Season with salt and pepper. Using a hand-held blender, puree until the tomato skins are mixed into the liquid.
9. Serve hot soup into bowls and garnish with yogurt and chives.
10. Serve the parmesan crisps on the side.