Davidson Plum Cruller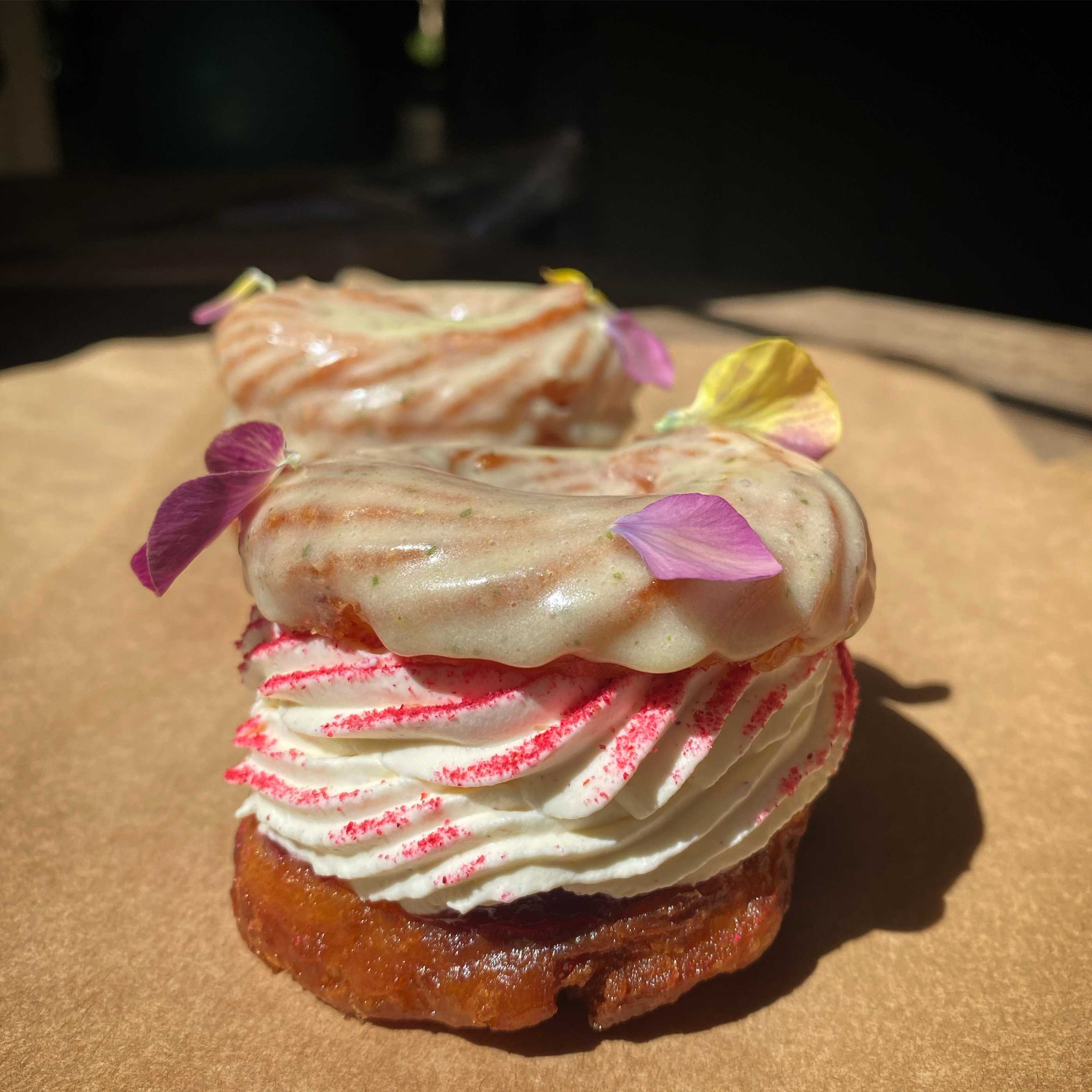 A cruller is a deep-fried pastry like a doughnut often made from a rectangle of dough with a cut made in the middle that allows it to be pulled over and through itself, producing twists in the sides of the pastry. Add a little Davidson Plum for that exceptional tart, sour flavour. 

Recipe by Audrey from



Ingredients:
Cruller- makes 25/30


160ml milk
160ml water
130g butter
200g flour
265g eggs
Cream- makes 25/30
400g cream
5g icing sugar
1 tsp Davidson plum powder
Davidson Plum Jam
Davidson plum powder to dust
Strawberry gum glaze- makes 25/30
90g butter
60ml milk
300g icing sugar
1tbs powdered strawberry gum
Vegetable oil for frying
Method
1. Cruller- Place your milk, water and butter in a saucepan on high heat a mind bring to boil. Once boiling turn heat down to medium heat and add your flour.
2. Mix with a wooden spoon for about a minute and then place into your mixmaster bowl with a paddle attachment.
3. Mix your dough at a low speed to drop the temperature before adding your eggs, one by one mixing in between. Before adding your last egg, check the texture of your mix, you should be able to lift the paddle and have the cruller pastry should hold a shiny V shape. Pop your cruller into the fridge to firm up slightly for piping

4. Frying your crullers- Pour your vegetable oil into your frying pot so that it is about 3-4cm deep. Heat your oil to 180 degrees celsius.

5. Pop your cruller pastry into a piping bag with a star nozzle. Pipe your crullers in a circle with a diameter of about 5.5cm, you should get about 25/30. Once piped gently place your crullers into the 180 degrees celsius oil, paper side up and fry for a few minutes or until you can see the cruller Turing a golden brown. You want to cook the bottom completely before flipping to ensure your cruller doesn't explode.

6. Once golden, flip and fry the side that was touching the paper. The frying process should take about 6-7 minutes all up.

7. Remove crullers from oil and place them on a drying rack.
8. Glaze- Place your melted butter, warm milk, strawberry gum and powdered sugar into a bowl and whisk until smooth. Dip the top half of your cruller into your glaze and set it aside to set. If your glaze looks too thin, your butter has probably started to solidify. Don't freak out, just reheat the mixture and whisk well.
9. Cream- Place your cream, icing sugar and Davidson plum powder into a bowl and whip until stiff peaks.
10. Assemble- Once crullers have cooled complete, flics the cruller in half. Dip the top into your glaze and set it aside.
11. Pipe a layer of Melbourne Bushfood rhubarb and Davidson plum jam onto the base and then pipe the whipped cream over the top. Dust with Davidson plum powder and place your glazed cruller back on top.


Option to add edible flowers if you're fancy like me