Desert Lime Mini Cheesecakes Recipe.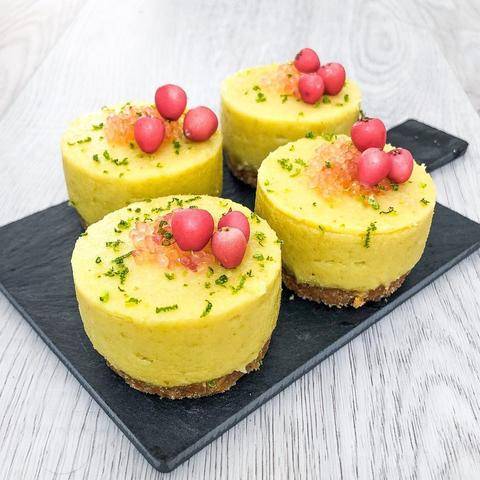 This is no ordinary cheesecake! We've teamed up with @Veganaugogo to crack the perfect recipe for a creamy and ultra smooth yet crunchy cheesecake! Paired with a distinctive piquant Desert Lime flavour, no one can deny its pure decadence. For the best results, follow these simple steps.



Ingredients:
Base
Ingredients:
90g Digestive Biscuits (McVities)
50g Vegan Butter (melted)
Cheesecake
Ingredients:
200g Raw Cashews (soaked overnight)
200g Icing Sugar
60g Coconut Oil (melted)
Juice of 1 Lime
Method:
1. Soak the cashews overnight (at least 12 hours) in enough cold water to cover them, at room temperature.
2. To make the base, put the digestive biscuits in a zip-lock bag and crush with a rolling pin until it resembles a fine crumb.
3. In a bowl mix together the crushed biscuits and melted butter.
4. Spoon the mixture into the bottom of the cheesecake pan/s and press it down firmly and evenly with the back of a spoon.
5. Place in the fridge to harden while you make the cheesecake.
6. Drain off and discard the water from the cashews and then place them in a food processor with the remainder of the ingredients.
7. Blend until the mixture is smooth and creamy.
8. Spoon the cheesecake mixture on top of the base/s, pressing down a bit to remove any air bubbles.
9. Place in the freezer for two hours to set before serving.
10. Garnish with finger lime pearls and/or lime zest.
11. Keep refrigerated