Soba Noodles Salad with Wattleseed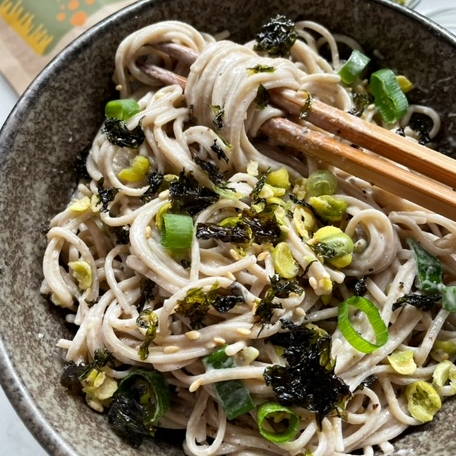 Soba noodles are made from buckwheat flour and wheat flour and have a slightly nutty, earthy taste. That's before you add the unique hazelnut like flavour of Wattleseed making your noodles a mouth watering decadence. Definitely a must try!
Recipe by Buttermilk Pantry



Ingredients:
For the sauce (enough for 2 small portions or one large):


2-3 Tbsp Tahini (40g)
3 Tbsp rice vinegar (60g)
2 Tbsp light soy sauce (30g)
2.5 tsp white sugar (12g)
1.5 tsp mirin (8g)
1 Tbsp + 1 tsp toasted sesame seeds (10g)
1/2 tsp wattleseed, ground (2g)
1/4 tsp dashi stock granules
Pinch of salt to taste


To finish:


Soba noodles for 2 portions
1-2tsp Sesame oil
Toasted sesame seeds
Dried seaweed
Spring onion, sliced
Wasabi peas, crushed
Method
1. In a small blender or bowl, add all of the sauce ingredients and blend together until mixed.
If not using a blender, crush the sesame seeds with a mortar and pestle and mix all the sauce ingredients in a bowl together.
2. Cook your soba noodles in boiling water according to the recommended time on the package. Check before time is up to ensure your noodles are al dante and not over cooked.
3. Once cooked, immediately drain and wash your noodles vigorously under running cold water for at least 30seconds to 1 minute to wash off excess starch.
4. Drain the soba noodles well, shaking off any excess washer. Place into a bowl and toss the noodles in sesame oil. Add the sauce and toss together.
5. Finish with ground Wattleseed, toasted sesame seeds, spring onion, dried seaweed and crushed wasabi peas for texture and a slight spicy sweet kick.


Enjoy immediately.


Additional ideas: The sauce makes for a great salad dressing as well