Warrigal Greens and Mountain Pepperleaf Pakoras with a River Mint Raita dip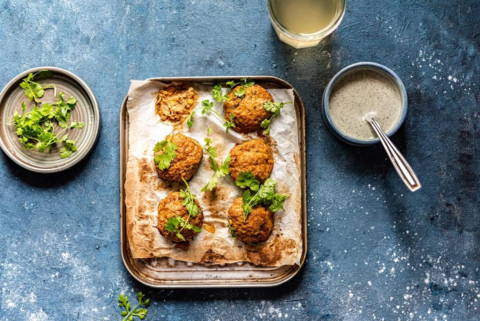 While Pakoras are common almost everywhere in the world now, this one is not! We've combined the mild, salty, and spinachy Warrigal Greens taste with the aroma of spearmint and pepper from our River Mint to bring one uniquely tasty yet simple-to-follow Pakora recipe! 



Ingredients:
Pakora Ingredients:
60g Chickpea Flour
5g Tsp Carraway Seeds
5g Tsp Mountain Pepperleaf
5g Tsp Salt
Oil For Frying
Raita Ingredients:
150g Plain Coconut Yogurt
5g Tsp River Mint
5g Tsp Cumin Powder
5 Tsp Coriander Powder
Juice of Half a Lime
3g Tsp Salt
Method:
1. To make the raita, all you need to do is mix all the ingredients together and set aside in the fridge
2. Heat a saucepan filled with water on the stove to boiling point.
3. Remove the Warrigal Greens leaves from the stems and place in the boiling water for two minutes
4. Strain and rinse the leaves.
5. In a bowl, combine the rest of the pakora ingredients with the greens, so they are lightly battered (you don't need to add any extra water to the batter, as there should be enough on the greens already)
6. Heat up a saucepan of oil about 1 cm deep on medium heat.
7. Drop tablespoonfuls of the pakora mixture in the oil and fry on either side until golden brown and crispy
8. Drain the pakoras on a paper towel, then serve with the raita.