Wild rosemary crusted kangaroo, fig & lilly pilly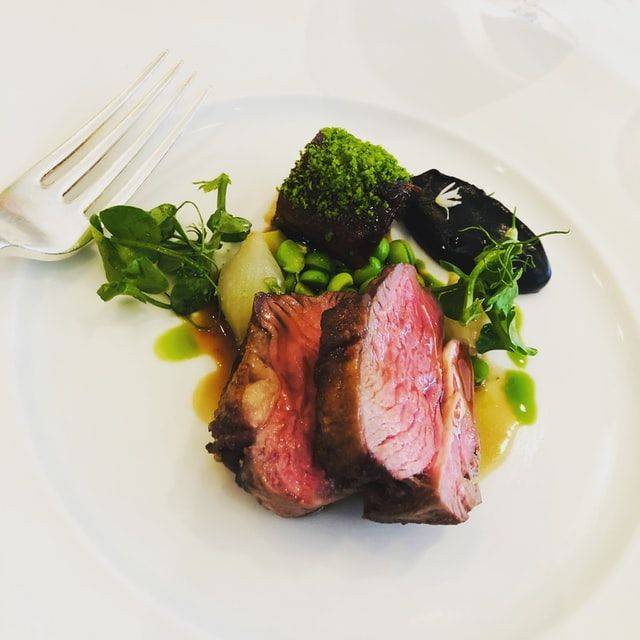 Kangaroo is a gamey meat, and some foodies even prefer it to lamb and steak for its tenderness and taste. Add a touch of Wild Rosemary that adds an aromatic, slightly minty, sage-like, peppery, balsamic taste with a warm, woody aftertaste. Complete the taste with sweet-tart, flavoursome, and fruity flavour of Lilly Pilly. 



Ingredients:


Fig and Lilly Pilly Chutney
1 tbsp olive oil
½ onion (80 g) finely chopped
80g lilly pillies
200g Fresh figs cut into wedges
1 tbsp maple balsamic vinegar
½ tsp brown sugar

The Roo
2 tbsp Wild Rosemary chopped
1 tsp Parsley chopped
½ tsp salt
500 g kangaroo fillets or steak cut in half
2 tbsp olive oil
Fig & Lilly Pilly chutney
1. Heat the oil in a small pan over low heat, add the onion and sauté until tender. 
2. Add the Lilly Pillies and figs, balsamic and jaggery. 
3. Cook tenderly over low heat, blending infrequently, for 10 minutes. 
4. Put away to cool.
The Roo
1. Mix the Wild Rosemary, parsley, salt and pepper. 
2. Dissipate evenly over a wooden board, at that point turn the kangaroo meat over it to cover all sides. 
3. Put away.
4. Heat a grill or non-stick dish over medium-high heat. 
5. Sprinkle the oil over the surface, at that point place the spice crusted kangaroo into the dish. 
6. Cook the kangaroo on all sides for 4-5 minutes, ensuring it is as yet medium-rare to rare within. 
7. Remove from the pan and allow to rest for 5 minutes prior to cutting.

8. Serve with the cooked garlic, chutney and any other vegetable you want.