Gympie Lime/Dooja - Growing Gympie Lime/Dooja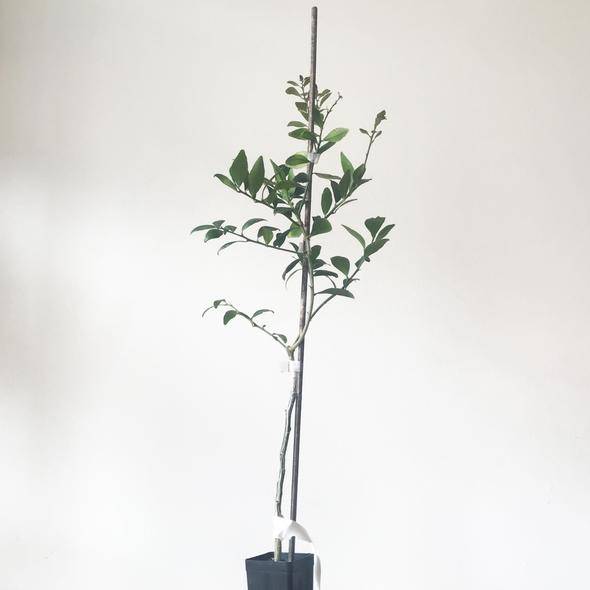 Image from Melbourne Bushfood
he Gympie Lime or Dooja 'Citrus australis' is a rare plant in the Australian garden. This bush fruit's native habitat is the Araucarian vine forests from Brisbane north to Gympie. They are a very versatile plant with the Dooja rind, flesh and juice all with different uses. Its branches do have small thorns that you need to be careful of but they become less prickly as they mature.
The fruits have a thick rind and have many oils present. These oils can be extracted and made into citrus smelling essential oils.
The round knobbly fruit of the Gympie Lime, usually reaching 3.5-4 cm in diameter have a distinctive and recognizably citrus flavour. The skin is very thick (up to 7mm) and has many potential culinary uses, such as grating into spice pastes, or for candied peel.
The Dooja fruit is very versatile in the kitchen with a distinctive and pleasant flavour. The flesh is dryer than the Tahitian lime but the whole fruit can be used as a flavouring in many dishes. It goes great with seafood and makes a tasty marmalade.
Image from Melbourne Bushfood
Good for:
- Beginners
- Pots
- Garden
- Frost
Planting Gympie Lime/Dooja


Dooja is well suited to a potted life and grows quickly in full sun. In these conditions, it will grow a heavy crop. It is important to keep it watered but it is very easy to over-water or under-water, so make sure you keep an eye on it. Take care when around the plant as it does have thorns.
A small shrub/tree, it can grow up to 2-4 metres in height.
Watering

The key to keeping a healthy plant is to not overwater or under water. 
Fertilizing

It grows best in a citrus fertilizer and acidic soil.
Harvesting
Gympie Lime is harvested in January in Tropical regions and March through April in cooler regions.