Pigface - Growing Pigface
Image from Melbourne Bushfood
Native Pigface is a hardy Australian native ground cover. Bright pink daisy flowers cover the bush throughout most of the year with the main flush in spring and summer. Is drought hardy and suitable for sandy soils and coastal positions. Prefers a full sun position and is suitable for pots. The leaves can be pickled into a preserve, and the fruit produced in late summer makes an excellent snack.
The fruit is tasty, sweet, and is somewhere between a salty kiwi with touches of melon. To eat, you tea the fruit and suck out the inner flesh.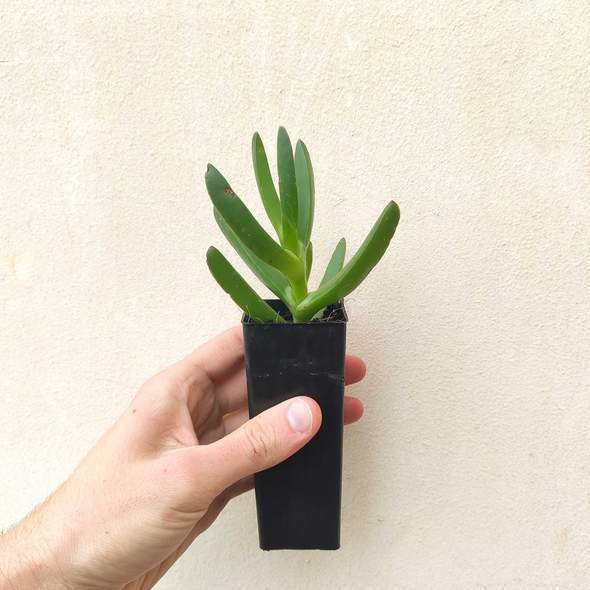 Image from Melbourne Bushfood
Good for:
- Beginners
- Pots
- Garden
- Ground cover
- Drought 
Planting Pigface


Since Pigface is a ground cover, it can cover large areas with no issue. It grows well, but slowly, in pots, and makes a beautiful display plant with the brightly coloured flowers.
The fruit is ripe when it becomes soft and a deep red colour.
It is a terrific ground cover and can cover large areas, upto 2 metres wide. It does well both under full sun and partial shade.
Watering
It can tolerate a range of conditions including sandy or clay soils, and is drought tolerant so watering won't become an issue
Fertilizing

Fertilizing Pigface is not mandatory, but if preferred, a general fertilizer would suffice twice a year.
Harvesting
Pigface is generally a summer-spring growing plant. It can be grown either from seed or cuttings. You can easily propagate by layering (rooting horizontal stem cuttings), this is how the plant grows naturally.