Outback BBQ steak with Tasmanian Mountain Pepperberry and Bush Tomato Relish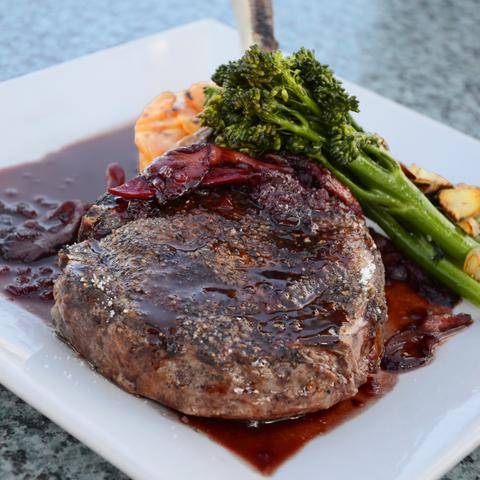 It's an Aussie custom to toss a tasty steak on the BBQ. This recipe incorporates our superb bush ingredients and gives a backyard classie an Aussie twist. The Tasmanian Mountain Pepperberry is a delicious alternative to your store bought pepper steak sauce and is extremely easy to make. The relish is just as easy and lasts for 2-3 weeks when stored in the fridge. 



Ingredients:
2 thick cut porterhouse/sirloin steaks 
Steak Seasoning
¾ tsp (3g) Ground Tasmanian Mountain Pepperberry ¾ tsp (3g) Lemon Myrtle 
1 tsp (5g) sweet smoked paprika 
Pinch of Sea Salt 
2 tsp (10g) rice flour 
Mountain Pepper Tomato Relish
500g tomatoes, cooked
1 tsp (10g) Bush tomatoes, 
2 cups onion, finely cut 
1 tsp (5g) Tasmanian Bush Pepperberry
10ml olive oil 
1 ½ tsp (15g) brown sugar 
15ml Balsamic Vinegar               
Method:
1. Place the onions and oil into a pot and cook over a medium heat, stirring until onions are all caramelized, around 10-12 minutes.
2. Add the Tasmanian Mountain Pepperberry, brown sugar and balsamic vinegar to the pan and bring to the boil.

3. Mix in the tomatoes and bush tomato and stew until flavours are sweet. Cool and spot in a perfect dry container until required.

4. Preheat the BBQ or frying pan to medium high heat.

5. Combine the steak and the steak seasoning in a bowl, make sure both sides of steak are evenly coated.

6. Cook steaks on a medium high heat, 4 minutes each side.
7. Take the steaks of the heat and let rest for around 4 minutes.
8. Serve Outback BBQ steaks with tomato relish, roast vegetables and a jacket potato.