Finger Lime Pannacotta, Desert Lime Granita and Macadamia Crumb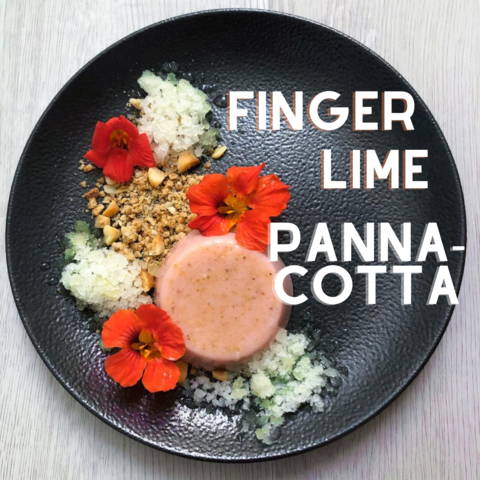 Mixed with the traditional Italian Panna cotta, it gives a unique Australian-Italian fusion which is perfect to prepare in advance for a dinner party. With the delicious aroma of fresh zesty, citrus and tantalizing hint of cooked apples, this dessert fills the room with the smell of native citrus as soon as it starts baking. The Desert Lime gives it a unique piquant lime flavour, perfect addition to the citric notes. It's best served when cool after main meals.
We've teamed up with an incredible home chef and vegan recipe master from @Veganaugogo who has come up with this awesome recipe.



Ingredients:
Panna cotta Ingredients:
500ml Soy Milk
120g sugar
1 Sachet of "Queen vegan Jel-it-in Powder" (can be found in baking aisle of supermarket)
Pink food colouring (optional)
Granita Ingredients:
250ml Water
30g Caster Sugar
Crumb Ingredients:
60g Cup Plain Flour
30g Vegan Butter
15g Brown Sugar
60g Macadamias, chopped
Method:
Granita:
1. Combine the granita ingredients together and mix well

2. Place into a shallow container and freeze for one hour
3. Give the mixture a stir, then put it back in the freezer for another hour
4. With a fork, scrape across the mixture to create the granita crystals
5. If it's not completely frozen yet, you can repeat this process
Crumb:
1. Pre-heat oven to 200 celsius
2. In a bowl, combine together the flour and sugar
3. Add the butter into the flour mixture and rub it in with your fingers to create crumbs
4. Mix in the chopped Macadamias
5. Lay the mixture out flat on a lined baking tray and bake for 10 minutes
6. Place in a bowl to completely cool down or you can place it in the fridge
Pannacotta:
1. Grease your pannacotta moulds with a little oil or butter (if you don't have any moulds, you can use a muffin pan)
2. In a bowl mix together the soy milk, sugar, food colouring and Jel-it-in powder
3. Place a saucepan on medium heat and add in the mixture
4. Once it reaches boiling point, let it boil for one minute then turn the temperature to low and 5. add in the Finger Lime powder
6. Working quickly, ladle the mixture into the moulds close to the top and place in the fridge to set for half an hour
7. When they've set, you can run a knife around the edge and flip them out
8. When everything has cooled, then you can plate your dessert!